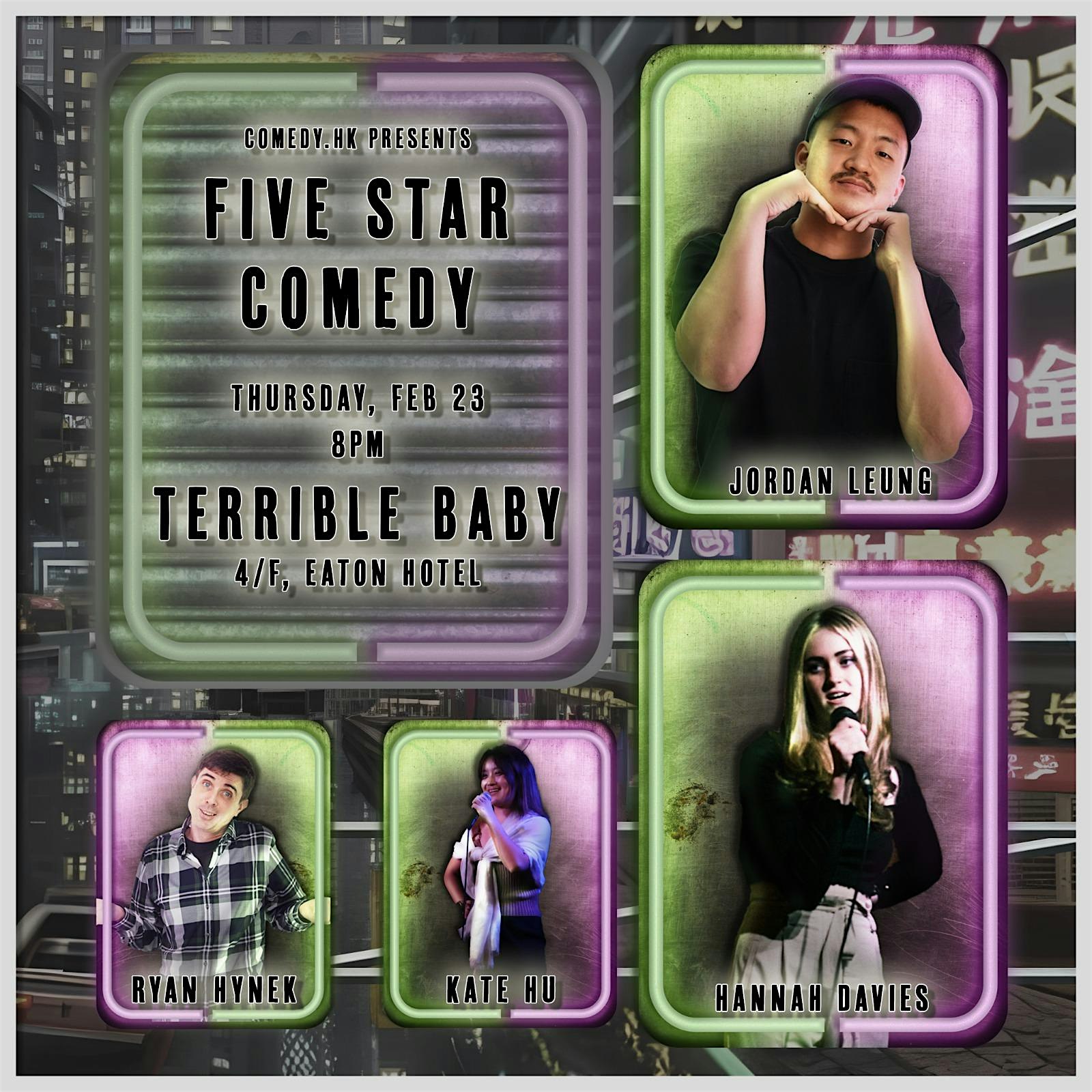 Thursday, 23 Feb 2023
20:00 — 22:00 HKT
Five Star Comedy ft Jordan Leung, Ryan Hynek, Kate Hu, & Hannah Davies
by
Comedy HK - Zicket
Location
Terrible Baby
380 Nathan Road
Hong Kong
HK
Sale ended
---
Five Star Comedy ft Jordan Leung, Ryan Hynek, Kate Hu, & Hannah Davies
Comedy.HK returns to Terrible Baby after four sold-out showcases! Featuring the top comics in the Hong Kong comedy: Jordan Leung, Ryan Hynek, Kate Hu, and Hannah Davies!
-
Stand-up comedian Jordan Leung is serious about being funny. The up-and-coming artist, who returned to Hong Kong from the US in 2020, has been learning Cantonese slang and catchphrases to tune in with the local audience.
He enjoys pointing out local nuances and keeps a notebook in his pocket to help him develop ideas and structure them for a performance. Leung hopes locals can embrace and support other forms of the art.
https://www.instagram.com/69ranch/
-
Ryan Hynek is a Chicago native who's been yucking it up on the Asia Comedy circuit since 2007. Knowing that comedy won't pay the rent in his 300 foot 'deluxe' apartment in the sky, Ryan works full-time as a secondary school English teacher. He's the first to admit that he uses his students as guinea pigs for his brand of observational humor and finds success in their puzzled looks. He's a top three finalist in the Hong Kong International Comedy Festival and has played clubs around the world from Chicago to Hanoi. You can find Ryan poking around the comedy clubs in HK most weekends.
"One of my favorite comedians to watch live. Guaranteed to get people to stay at your cruise ship bar 30 minutes longer." - Turner Sparks
-
Kate Hu developed her unique sense of humor by always talking back to her very Chinese parents growing up. She was fascinated the first time she came across Jerry Seinfeld and Louie CK's comedy on the internet, though the Great Firewall.
After years of copycatting her favorite comedians' jokes to her friends, she was finally pushed to write and perform her own stuff. Kate's dream is to become the first comedy therapist. It's been working for her... so far.