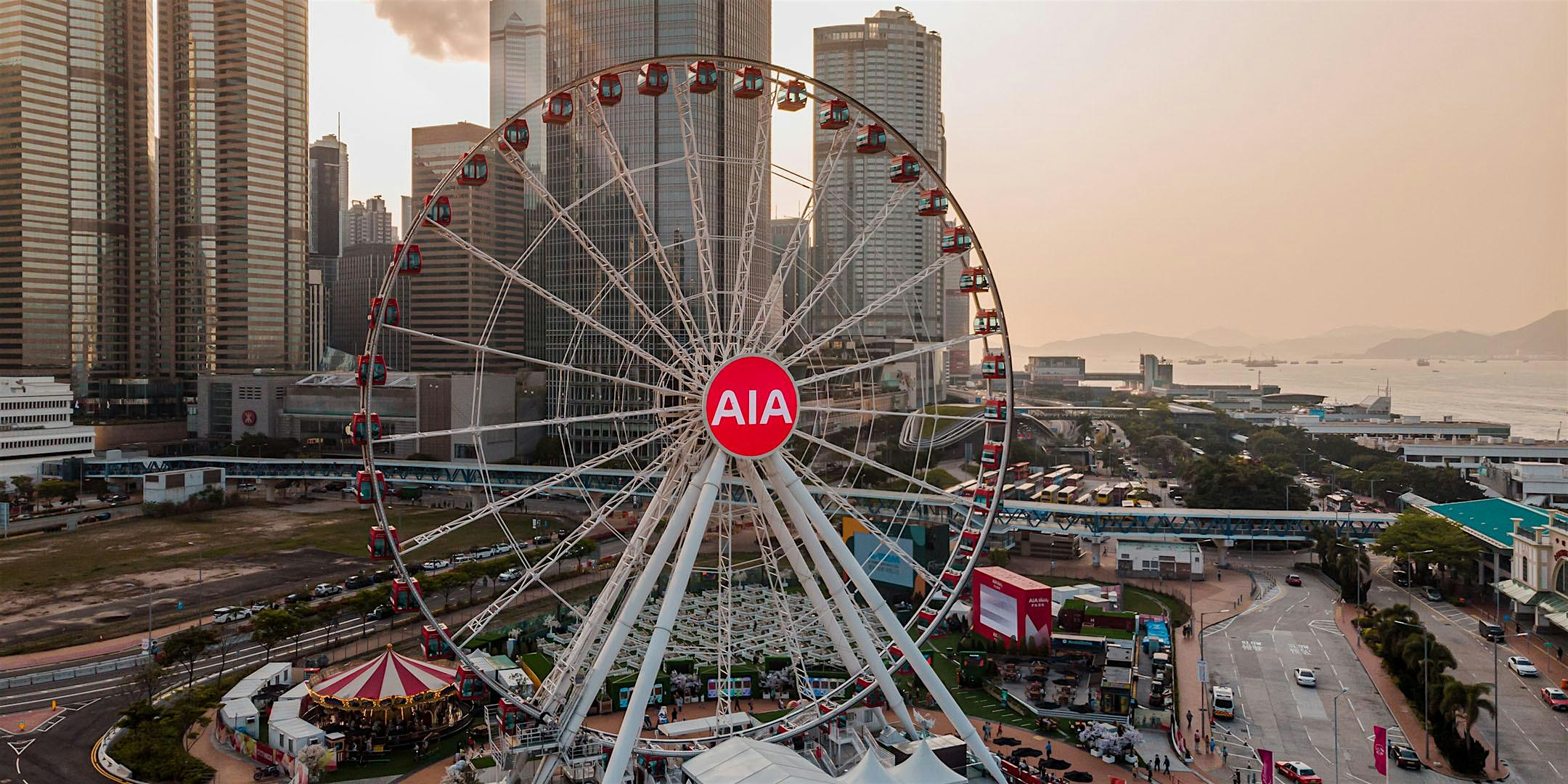 Thursday, 23 Nov 2023
12:00 — 22:00 HKT
Location
Hong Kong Observation Wheel & AIA Vitality Park
33 Man Kwong Street
Central
HK
Sale ended
---
Enjoy spectacular views of the Hong Kong Skyline 享受香港天際線的壯麗景色 Oct 31, 2023
Enjoy spectacular views of the Hong Kong Skyline
Good news! You can now book your tickets online with no booking fee, and ride anytime during our opening hours.
享受香港天際線的壯麗景色
好消息!網上免手續費訂票服務現已開放,歡迎您隨時在開放時間內乘坐。
Opening Hours
Monday to Thursday: 12:00 to 22:00 (Final ride 21:30)
Friday to Sunday, public holidays and public holiday eves: 11:00 to 23:00 (Final ride 22:30)
開放時間
星期一至四: 正午12:00至晚上10:00 (最後登車時間為晚上9時30分)
星期五至日,公眾假期及公眾假期前夕: 上午11時 – 下午11時 (最後登車時間為晚上10時30分)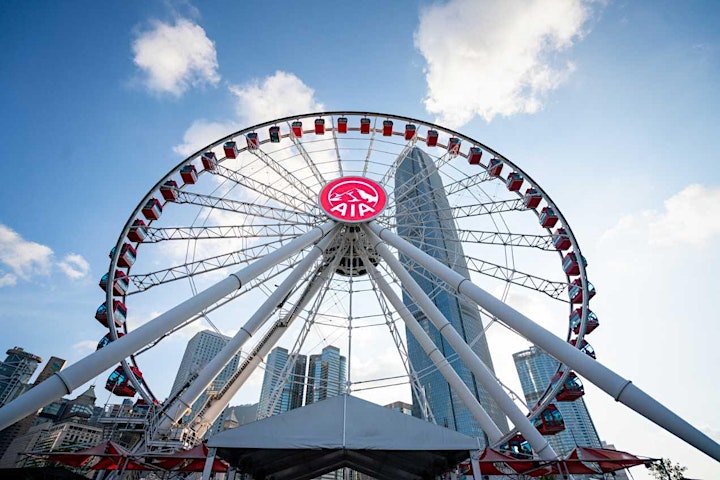 Come experience a 15-minute ride with unobstructed panoramic views of the Victoria Harbour and Hong Kong City skyline!
Located in the heart of the city, the 60 metre Hong Kong Observation Wheel offers stunning views of iconic points of interest such as The Peak, ICC, IFC, Lion Rock, Stonecutters Bridge and the Star Ferry, from comfortable, air-conditioned gondolas.
體驗15分鐘的旅程,飽覽維多利亞港及香港天際線的全景!
座落在城市中心的60米高香港摩天輪,在冷氣舒適的車廂內可以觀賞到山頂、環球貿易廣場、國際金融中心、獅子山、昂船洲大橋及天星碼頭等標誌性景點。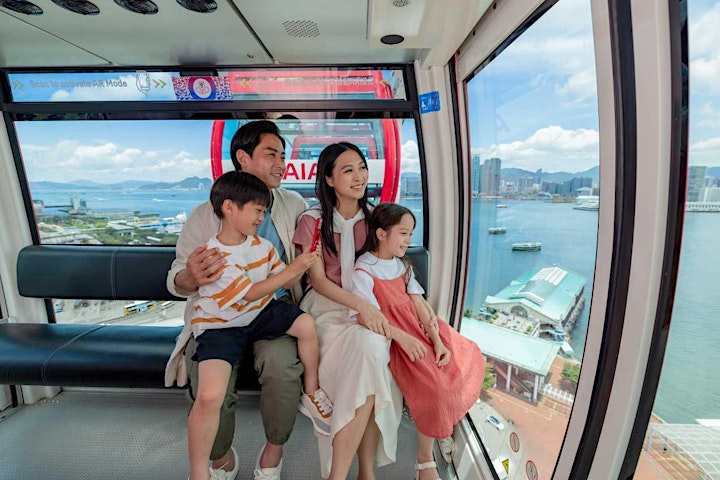 Time travel with the HKOW AR App presented by AIA
You can travel in time and see the captivating faces of Hong Kong in different eras as the Wheel spins. The Hong Kong Observation Wheel AR App presented by AIA is a free Augmented Reality experience which allows you to appreciate Hong Kong in its virtual form in 3 distinctive eras: 1890s-1920s, 1960s-1980s and Present Day, whilst riding the Hong Kong Observation Wheel. With your mobile device, you can scan key points of interest and learn about interesting facts and anecdotes. The App is available for Apple and Android devices and download links can be found on our website www.hkow.hk
由友邦呈獻的香港摩天輪AR應用程式可帶您回到過去
隨著摩天輪的轉動,穿越時空,看到不同時代的香港迷人景色。友邦保險呈獻的香港摩天輪AR應用程式免費讓賓客在摩天輪上增強時代感,在乘坐香港摩天輪的同時,欣賞香港在三個不同時代的虛擬畫面:1890-1920年、1960-1980年及現在。您可以在您的手機掃描景點,了解有趣的事件和軼事。該應用程式可於蘋果及安卓系統下載,程式可於我們的網站www.hkow.hk內的連結下載。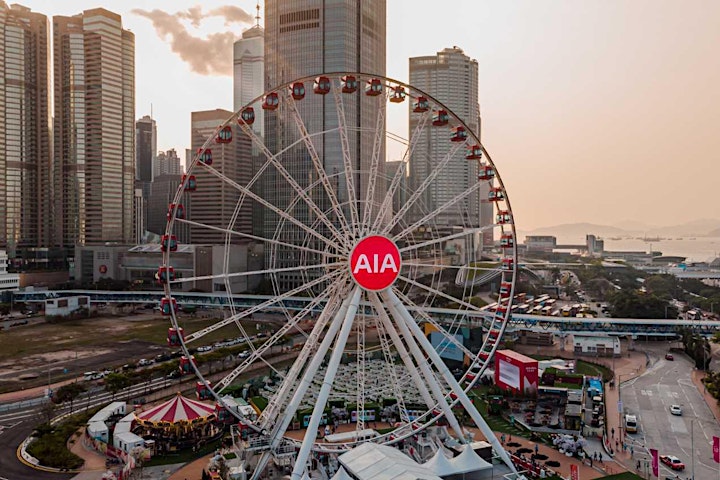 Rest and recharge at the AIA Vitality Park
And after your ride, you can rest and recharge on the lush green lawn of AIA Vitality Park with its many interesting street art installations, photo opportunities, refreshment kiosks and a beautifully hand-painted classic carousel. The AIA Vitality Park regularly hosts a variety of lifestyle events such as weekend markets, outdoor cinemas, food and beverage festivals, concerts, and more.
在友邦AIA Vitality公園休息及放鬆
坐完摩天輪後,您可以在AIA Vitality公園的草地上休息及放鬆,這裡有許多有趣的街頭藝術裝置、拍照場景、小食亭和人手油繪的古典旋轉木馬。AIA Vitality健康公園定期舉辦各種活動,如週末市場、戶外電影院、美食節及音樂會等等。
Free health and wellness activities at the AIA Vitality Hub
Located in the Hong Kong Observation Wheel and AIA Vitality Park, the AIA Vitality Hub is a unique health and wellness venue built to engage the Hong Kong community and its visitors through an array of free classes and events. These activities are designed to educate, motivate, and inspire people of all ages to enjoy active lifestyles and adopt healthy living habits.
To find out more about the Hong Kong Observation Wheel, visit our website www.hkow.hk.
免費身心靈健康活動@AIA Vitality健康總部
友邦AIA Vitality健康總部位於香港摩天輪及友邦AIA Vitaltiy公園內,是一個獨特的身心靈健康場地,通過一系列的免費活動吸引香港社區和訪客。這些活動旨在教育、鼓勵和啟發不同年齡的人享受積極的生活方式和養成健康的生活習慣。。
要了解更多關於香港摩天輪,請瀏覽我們的網站www.hkow.hk。