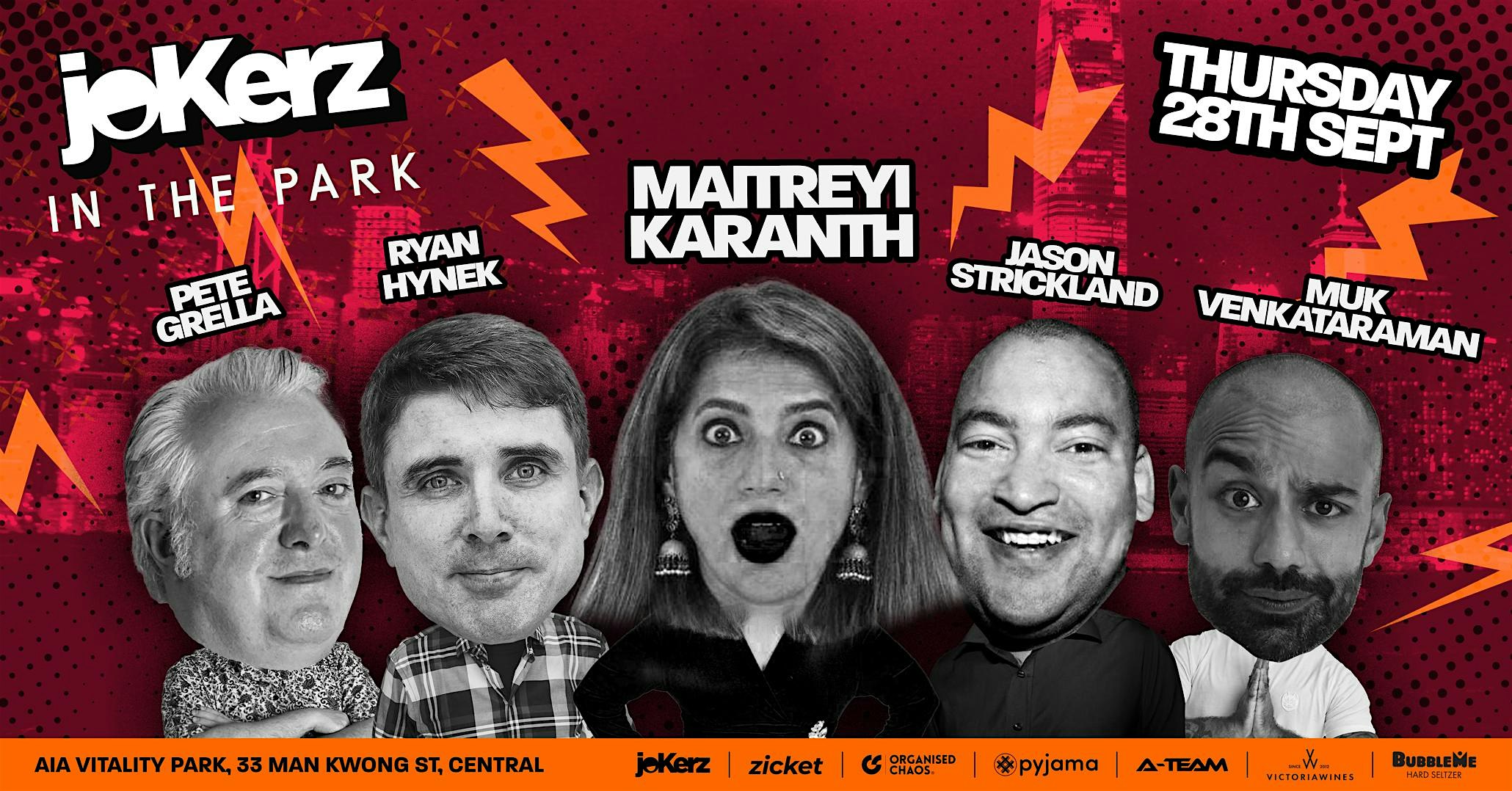 Thursday, 28 Sep 2023
20:00 — 23:00 HKT
Location
Hong Kong Observation Wheel & AIA Vitality Park
33 Man Kwong Street
Central
HK
Sale ended
---
A real highlight on the HK comedy calendar. Jokerz is back with an epic evening of laughter at the foot of the Hong Kong Observation Wheel.
After a sun-soaked summer hiatus, Jokerz is back with a bang! Your laughter lines are about to get some serious exercise at AIA Vitality Park! Jokerz is back after plotting world comedy domination over the summer. We'll see you for another evening of raucous laughter under the stars on the 28th of September for Jokerz in The Park! 🤣
That's right, we're unleashing another comedy extravaganza at the foot of the iconic Hong Kong Observation Wheel. Prepare for a lineup that boasts the city's comedic elite: the always irreverent Ryan Hynek, the quick-witted Muk Venkataraman, the ever-hilarious Pete Grella, and the HK comedy legend that is Jason Strickland. But wait, there's more - we're also teasing a very special appearance by a mystery guest. 👀
Thank you all who attended our last outdoor Jokerz show. The feedback was amazing and we've listened and made a few tweaks to make Jokerz in The Park even better! This event will take place between the cooler hours of 8pm and 11pm. We've also got on-site food vendors that you can buy your dinner or some snacks from, alongside that all important well-stocked bar complete with wine supplied by Victoria Wines, beer, BubbleMe seltzers and soft drinks.
Imagine this: Taking your seat in the park, the evening breeze cooling you down, with the dazzling lights of the Observation Wheel setting the scene. As you sip on your drink, you're surrounded by waves of laughter, spectacular views, and a sense of comedic community that only a Jokerz show can foster.
Whether you're a dedicated Jokerz aficionado or someone searching for the perfect dose of laughter after the summer lull, Jokerz in The Park is the event for you. Set your expectations high and get ready for another highlight on the Hong Kong comedy calendar.
Tickets? They're hotter than this summer was, so snap yours up before they're gone and prepare for an abs workout - the laughter kind. We'll see you in the park!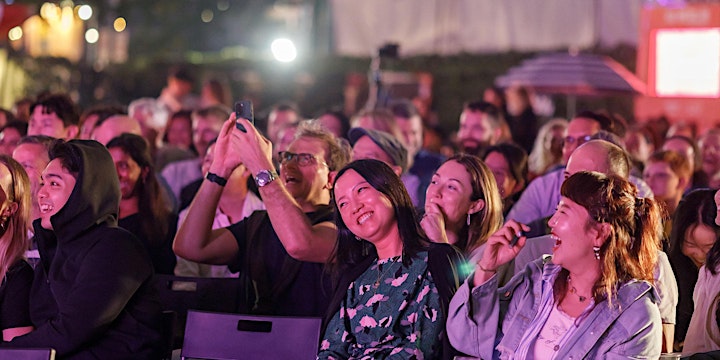 The Lineup
Maitreyi Karanth - Already an actor and producer, Maitreyi took up stand-up comedy as just an extension of her real life persona. Having lived outside India for 22 years, first in the Middle East and now in Hong Kong, she has a collected a treasure chest of funny experiences across different geographies and cultures. Whether its her husband, son or just all the people she has come across during her very many travels, they are all in her line of fire. Maitreyi is one of HK's finest comedic talents and we can't wait for her hilarious set at Jokerz in The Park.
Muk Venkataraman - Muk Venkataraman is a comedian based in Hong Kong. Originally from India, he's known for his witty and irreverent takes on life as an expat in Hong Kong. He's a regular performer at TakeOut Comedy and has been featured in various comedy festivals across Asia. With his unique perspective and sharp sense of humour, Muk is another star in the Hong Kong comedy scene.
Ryan Hynek - Ryan Hynek is a Chicago-born comedian who has been living in Hong Kong for nearly ten years. He's a multi-time finalist in the Hong Kong Comedy Competition and has hosted the HK Ted X talks. Ryan's job as an English teacher at a local secondary school provides him with most of his comedic inspiration. He's also opened for top international comedians and performed at comedy venues around Hong Kong, Macau, The Philippines, Indonesia, and Chicago, USA.
Pete Grella - Pete Grella is a Hong Kong-based comedian and improviser with years of experience performing across Asia and beyond. He's known for his hilarious takes on life as an expat and his engaging, interactive style. In addition to being a regular performer and co-founder of several improv groups in Hong Kong, Pete has opened for notable international comedians and performed at major venues across the globe.
Jason Strickland - Emerging from the vibrant comedy circles of London in 2010, the English maestro, Jason Strickland, quickly ascended to comedic stardom in Hong Kong. A seasoned globe-trotter of the stand-up world, Jason's shows are an unpredictable blend of razor-sharp audience banter and magnetic storytelling. Each performance is a fresh dive into his humorous universe, ensuring you're both riveted and rollicking with laughter every time.
WHAT TO EXPECT
Stand-up comedy show featuring 5 of Hong Kong's best headline acts
Spacious outdoor venue with large stage and LED screen
Full service bar and snacks
Rowed seating
Free lawn games
VENUE
All of this will take place at the Hong Kong Observation Wheel and AIA Vitality Park, a stunning waterfront venue with breathtaking views of the Victoria Harbour. Sit back, relax, and enjoy live stand-up comedy by talented local comics as you soak in the laid-back atmosphere, surrounded by friends, family, and fellow comedy lovers.
Event Partners
We're thrilled to be partnering with some awesome partners who will elevate your Jokerz in The Park experience to even greater heights.
A-Team - Our go-to guys for AV hire. A-Team are a one-stop shop for all our audio visual needs and we couldn't make Jokerz in The Park happen without them.
BubbleMe - Keeping you refreshed throughout Jokerz in The Park, toast to laughter and good times with delicious BubbleMe seltzers thanks to our event partner. A revolutionary seltzer that's reshaping the social drink landscape in Hong Kong, BubbleMe represents a bold reimagining of the drinking experience and we're delighted to be partnering with them for this event.
Pyjama - Helping us out with their first-class event production services, the Pyjama team are supplying seating and the all-important bar to Jokerz, ensuring you stay hydrated and merry throughout an action-packed evening of laughter.
Victoria Wines - Victoria Wines Limited was established in Hong Kong in 2012 to provide Hong Kong customers with a comprehensive worldwide selection of wines, spirits & other beverages. They only pick wines that meet their high standards, selling only wines that they love and would drink. If you're planning to enjoy a glass or three at Jokerz in The Park, you're in luck, because the selection will be impeccable.
Zicket - Our ticketing partners and all round great team. Your one-stop shop for the best events in Hong Kong.
FAQS
Am I allowed to bring my own food and drinks?
Please note that outside food and drink are not allowed at our event. We have a full service bar and select food options available on site. Highlight, Color Cha Cha & Milk Top.
Is there an age limit?
In accordance with the law in Hong Kong, alcohol will not be sold or served to a minor under the age of 18. However, feel free to bring along the whole family. Children under 18 must be accompanied by an adult.
What if it rains?
Our event is a rain-or-shine outdoor event. In the case that the event is unable to open due to inclement weather, you will be notified in advance and your session will be rescheduled to a later date. Please note that it is at the absolute discretion of the event what does or does not constitute inclement weather. Please do not assume your session is cancelled as you will not be refunded unless the session is officially postponed or cancelled.
Is there seating in the venue?
Yes, seating will be provided and guests are welcome to bring their own picnic mats or blankets to lounge on the grassy lawn.
Is the event pet-friendly?
Only licensed and harnessed service-animals are permitted at the event.
Who do I contact for time-sensitive changes or questions related to my existing reservation?
Please email our ticketing partner Zicket for any ticketing-related changes on help@zicket.co