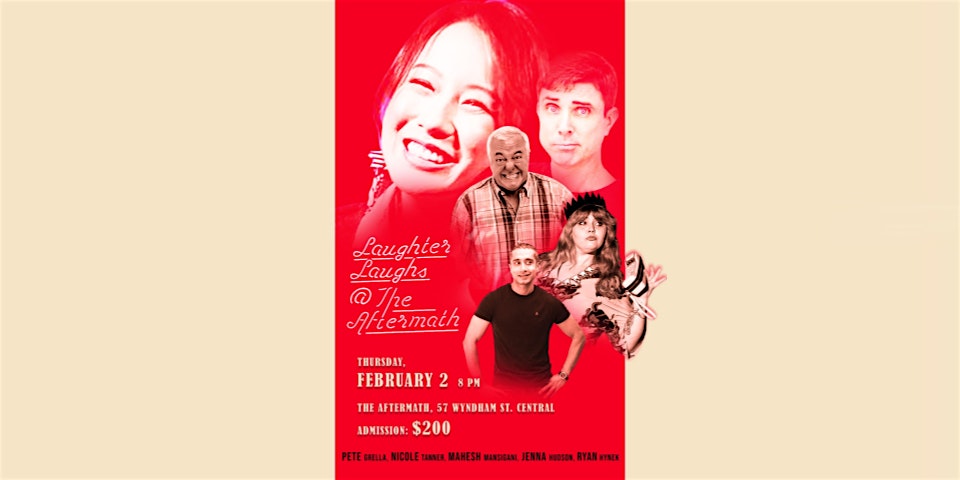 Thursday, 02 Feb 2023
20:00 — 23:00 HKT
Location
The Aftermath
57-59 Wyndham Street
Hong Kong
HK
---
Featuring Nicole Tanner, Ryan Hynek, Pete Grella, Mahesh Mansigani, and Jenna Hudson!
Nicole is the newest member in the comedy scene, only starting her comedy career in November 2021. She is already one of the most popular comedians, garnering almost 25,000 followers on her Instagram page, which is filled with fun-loving comedic videos.
During the day, Nicole works as a doctor in Paediatrics. She often uses comedy in the hospital to cheer her patients' up (obviously while saving their lives).
Prior to comedy, she has taken the big stage as an emcee for the past 9 years. Nicole previously hosted large ceremonies and conferences, and now makes inappropriate jokes in basements.
-
Ryan Hynek is a Chicago native who's been yucking it up on the Asia Comedy circuit since 2007. Knowing that comedy won't pay the rent in his 300 foot 'deluxe' apartment in the sky, Ryan works full-time as a secondary school English teacher. He's the first to admit that he uses his students as guinea pigs for his brand of observational humor and finds success in their puzzled looks. He's a top three finalist in the Hong Kong International Comedy Festival and has played clubs around the world from Chicago to Hanoi. You can find Ryan poking around the comedy clubs in HK most weekends.
"One of my favorite comedians to watch live. Guaranteed to get people to stay at your cruise ship bar 30 minutes longer." - Turner Sparks
-
Pete Grella is a Hong Kong-based stand-up comedian and improviser who has been cutting up audiences around Asia for over 11 years. In addition to being a regular performer in Hong Kong, Pete has performed in New York City and all over Asia. He has also hosted or opened for a long list of visiting international comics, including Tom Cotter, Paul Ogata, Tom Segura, Ruben Paul, Barry Hilton and Ari Shaffir. Pete's sets often dissect life as an expat (and just trying to fit in, in general), though he's never afraid to poke fun at himself and his own bad habits. He also likes to engage the audience, so if you're sitting up front, be ready to chat!
When he's not performing or teaching, Pete has been known to live on an abandoned oil rig in the North Sea raising sea monkeys.
"Pete Grella is one of the shining stars of the Hong Kong comedy scene. Stand-up, improv, sketch, Pete does it all!" -Paul Ogata
"Pete uses his experiences in life and in living abroad to poke fun at himself, to share his take on life, and to explore just trying to fit in. Which is all just a polite way to say he's broken down, old and lives far away... but is still damn funny. His clever comedy is laugh-out-loud funny, and his improvisational skills will have the audience in stitches before they even know what's hit them!" - Tom Cotter
-
Mahesh Mansigani has always been the class clown, cracking his first joke at the age of 6 months old…however he couldn't speak English at that time (or any language other than baby talk) so he was the only one that got it!
Performing has always been one of Mahesh's favourite hobbies, and he took part in and presented many shows in school and at university. Post university Mahesh continued taking part in amateur productions and played the lead role in the 2005 Play 'A Very Sindhi Wedding' in his hometown of London.
Mahesh first tried his hand at stand up in 2007 at a Takeout Comedy Stand up workshop… however he did not build up the nerve to debut at open mic night until early '09!
Since then Mahesh has performed comedy around the world, been selected as a finalist in the Hong Kong International Comedy Competition, and shared the stage with major national marquee acts including Paul Ogata and Wali Collins. He has been featured by the South China Morning Post and Phil Whelan's RTHK Radio 3 show 'Morning Brew'.
"Funny from start to finish." - Andy Curtain
-
Meet Jenna Hudson: Stressed, depressed... but very well dressed. Originally from England, they look like a moody Doctor Who companion and have the wit of a drunken bloke at the pub, but with more jokes about alcoholism and less about racism.