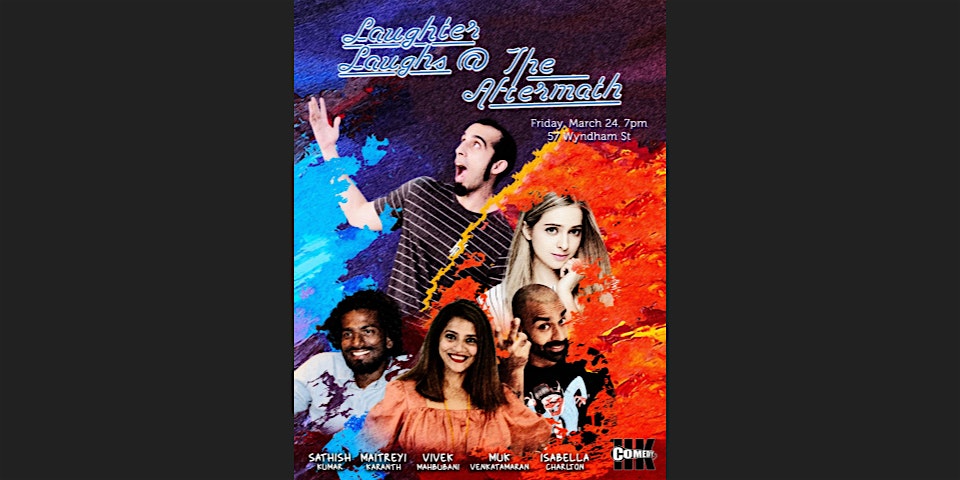 Friday, 24 Mar 2023
19:00 — 21:00 HKT
Location
The Aftermath
57-59 Wyndham Street
Hong Kong
HK
---
The best and brightest comics of the Hong Kong comedy scene take the stage at Comedy.HK's signature showcase!
The best and brightest comics of the Hong Kong comedy scene take the stage at Comedy.HK's signature showcase! Featuring Vivek Mahbubani, Maitreyi Karanth, Isabella Charlton, Muk Venkataraman, and Sathish Kumar!
-
Vivek Mahbubani is a Hong Kong-bred bilingual stand-up comedian performing in both Cantonese and English. Having been crowned the Funniest Person (in Chinese) in Hong Kong in 2007 followed by his victory in the English category at the Hong Kong International Comedy Competition in 2008, Vivek has had the opportunity to take his sense of humor all over the world including Hong Kong, China, Macau, Singapore, Malaysia, Philippines, Thailand, Sri Lanka, India, Australia, Canada and USA.
In 2014, the World Famous Laugh Factory in USA ranked Vivek as one of the top 10 comedians in their Annual Funniest Person in the World Competition.
In 2015, he was handpicked as one of the comedians to represent Asia's best in Melbourne International Comedy Festival's inaugural "Comedy Zone Asia" shows.
In 2016, he was featured in Comedy Central's first ever "Stand up Asia!" shows. One of Vivek's passions is reading and his favorite book is Sun Tzu's Art of War. Oddly, his favorite color is hot pink.
-
Maitreyi Karanth an actor, producer took up stand-up comedy as just an extension of her real life persona, at the age of 44. Being married and having lived outside India for 22 years, first in the Middle East and now in Hong Kong, she has collected a treasure chest of funny experiences across different geographies and cultures.
After her very second open mic she was spotted by Saurabh Pant who was then touring Hong Kong and asked to open for him. Since then she has opened for Tom Cotter, Gina Yashere, Atul Khatri, Amit Tandon, Tom Rhodes, Paul Ogatta and Sean Patton. She has also performed in Bangkok, Singapore and India as a featured comedian, and starred in the film My Indian Boyfriend (2021)
-
Isabella Charlton is a British Anglo Indian writer-actor-comedian. She has performed Stand Up Comedy at the Big Sky Comedy Festival, Laughing Skull Festival, and the Seattle International Comedy Festival. Isabella grew up in Hong Kong and speaks fluent Mandarin Chinese.
-
Muk is born and raised in Hong Kong, and is well travelled living in 6 different countries.
He is highly educated, holding 3 university degrees and is somehow managing to use absolutely none of them as he is now a personal trainer and stand up comedian.
His comedy style is based on true life experiences, true stories where every time something good happens, misfortune prevails in extremely strange ways.
-
Sathish Kumar is an up and coming stand-up comedian from a small village in south India. When not doing shows, You can find them performing to their dog or bootlegging rice in sheung Shui. Sathish's comedic style has been described as "that's weird"