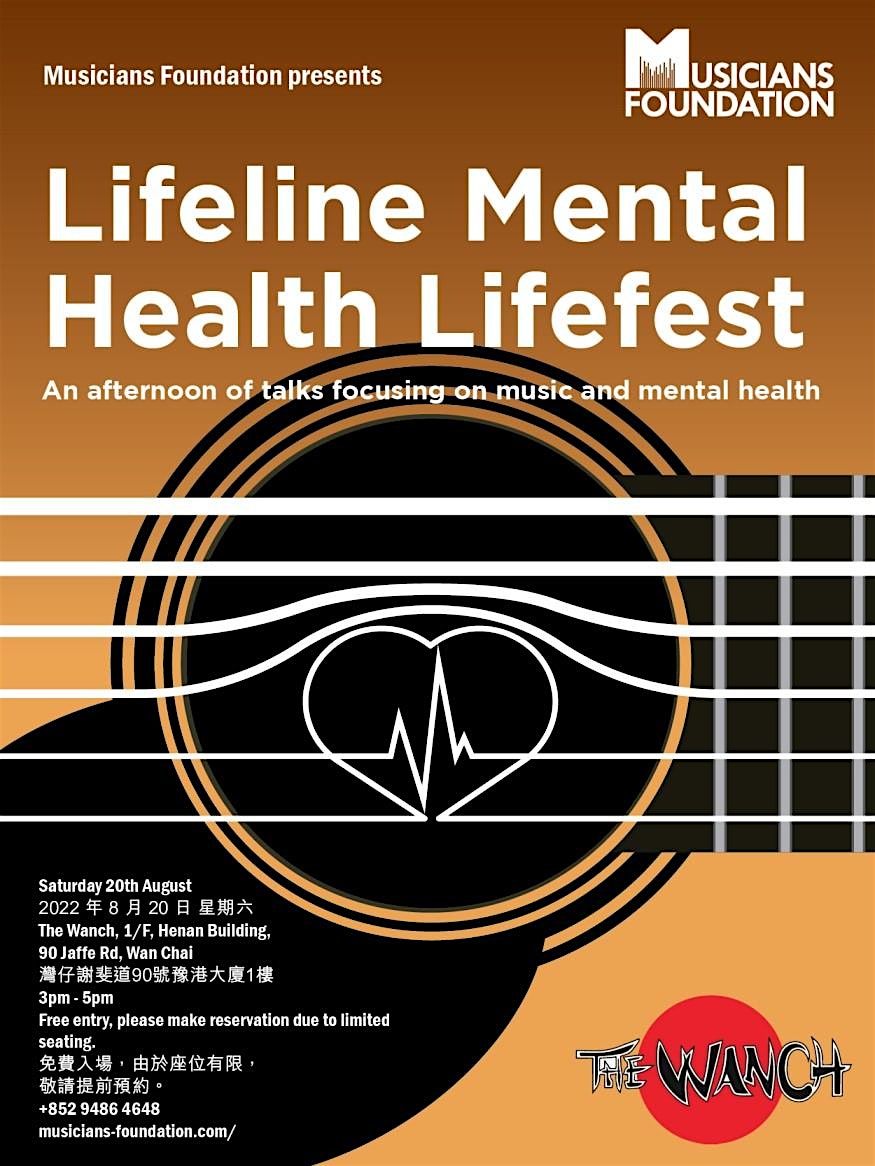 Saturday, 20 Aug 2022
15:00 — 17:00 HKT
Location
The Wanch
90 Jaffe Road
Hong Kong
HK
Sale ended
---
SUPPORTING MUSIC AND MENTAL HEALTH
The uncertainty from the COVID-19 pandemic has made it exceedingly difficult for the music industry, particularly live music. Indefinite restrictions have taken a heavy toll on the mental health of not only the artists, but also the thousands of people who work alongside them.
On 20th August 2022, we will be conducting an afternoon of TedX-style talks focusing on raising awareness on music and mental health. We will have:
• Devastated musicians sharing their stories
• Shirralee from Positive Wellbeing will give a presentation on how music and mental health are intricately linked and strategies for mental health.
• Mini concert(s) if live performance are permitted
Musicians give so much to our community on so many levels, and we want to give back to them in their time of need. We want Hong Kong musicians to thrive not just survive.
Please help us support Hong Kong's live music personnel and revive our music industry.
Saturday 20th August 2022
The Wanch, 1/F, Henan Building, 90 Jaffe Rd, Wan Chai
3pm - 5pm
Free Entry, please make a reservation due to limited seating.
+852 9486 4648
https://www.musicians-foundation.com/
支持音樂及精神健康
2019冠狀病毒病帶來的不確定性使音樂產業變得極其困難 ,尤其是對現場音樂來說。無限期的限制不僅嚴重影響了音樂家,甚至影響了與他們一起工作的數以千計的人的心理健康。
我們將於2022 年 8 月 20 日下午以TedX 形式進行講座,旨在提高人們對音樂和心理健康的認知。 我們將有:
• 身心交瘁的音樂家分享他們的故事
• 來自Positive Wellbeing的Shirralee將就音樂與心理健康之間存在複雜的聯繫,以及心理健康的策略進行演講。
• 迷你音樂會(如允許)
音樂家在很多層面上為我們的社區付出了很多,因此我們希望在他們患難時回饋他們。 我們希望香港音樂家能富裕,並不只是生存。
請幫助我們支持香港的現場音樂人員,復興我們的音樂產業。
2022年 8 月 20 日 星期六
The Wanch, 灣仔謝斐道90號豫港大廈1樓
下午3 – 下午5pm
免費入場,由於座位有限,敬請提前預約。
+852 9486 4648
https://www.musicians-foundation.com/
22.2784926
114.1715012