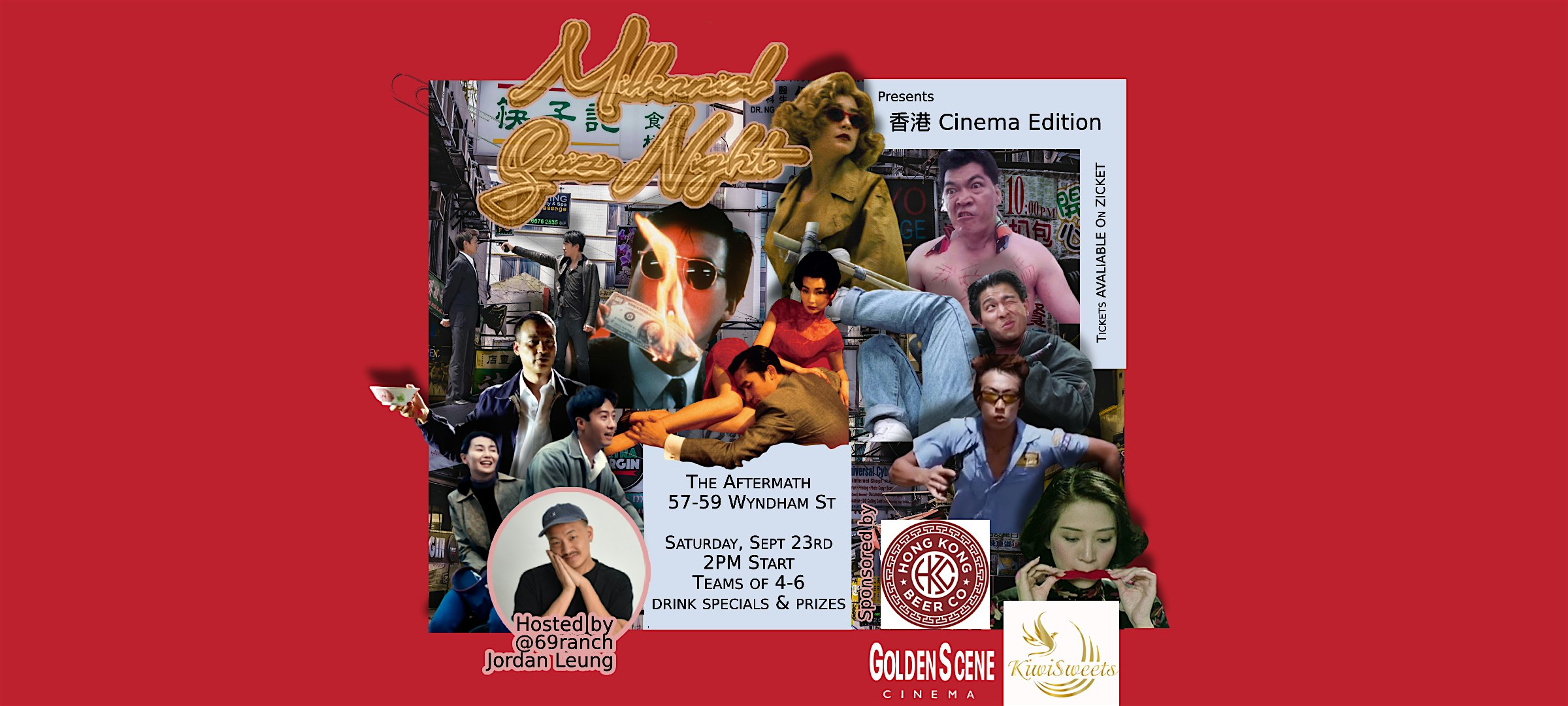 Saturday, 23 Sep 2023
14:00 — 17:00 HKT
Location
The Aftermath
57-59 Wyndham Street
Hong Kong
HK
Sale ended
---
Millennial Quiz Night: Hong Kong Cinema Edition
🎥✨ 重拾舊日情懷 致敬香港電影!🌟
坐上經典電影時光機,向香港電影嘅黃金時代致敬!
今次請嚟人氣棟篤笑表演者@69ranch同大家過一個香港電影傳奇之夜,向吳宇森嘅暴力美學、王家衛嘅詩意演繹同周潤發嘅銀幕魅力致敬!一齊同一班電影愛好者沉浸喺香港電影嘅魔力入面,重溫令人心跳加速嘅動作場面、迷人嘅視覺效果同難以忘懷嘅角色啦!入場嘅你除咗可以暢飲@hkbeerco嘅啤酒外,仲有機會獲得由@goldenscenehk送出嘅VIP戲飛添!
仲等咩?報名參加激發你嘅電影情懷啦!🎬🍿
名額有限,報名要快!
🎥✨ Rediscover Nostalgia: A Tribute to Hong Kong Cinema! 🇭🇰🌟
Step into a time machine of cinematic memories as we pay homage to the golden era of Hong Kong cinema, hosted by @69ranch and sponsored by Hong Kong Beer Co., Kiwi Sweets and Golden Scene Cinema. Join us for an evening that celebrates the legendary John Woo's iconic gun ballets, Wong Kar Wai's poetic storytelling, and the timeless charm of Chow Yun Fat's performances that once graced the silver screen.
Relive the heart-pounding action, mesmerizing visuals, and unforgettable characters that continue to ignite our nostalgia. Dive into an immersive experience that transports you back to the magic that is Hong Kong cinema, guided by the wit and humour of Jordan Leung. 🎬🍿
Spaces are limited, so secure your spot now!
𝗣𝗹𝗲𝗮𝘀𝗲 𝗻𝗼𝘁𝗲 𝘁𝗵𝗲 𝗾𝘂𝗶𝘇 𝘄𝗶𝗹𝗹 𝗯𝗲 𝗰𝗼𝗻𝗱𝘂𝗰𝘁𝗲𝗱 𝗶𝗻 𝗯𝗼𝘁𝗵 𝗖𝗮𝗻𝘁𝗼𝗻𝗲𝘀𝗲 𝗮𝗻𝗱 𝗘𝗻𝗴𝗹𝗶𝘀𝗵.
Venue: The Aftermath