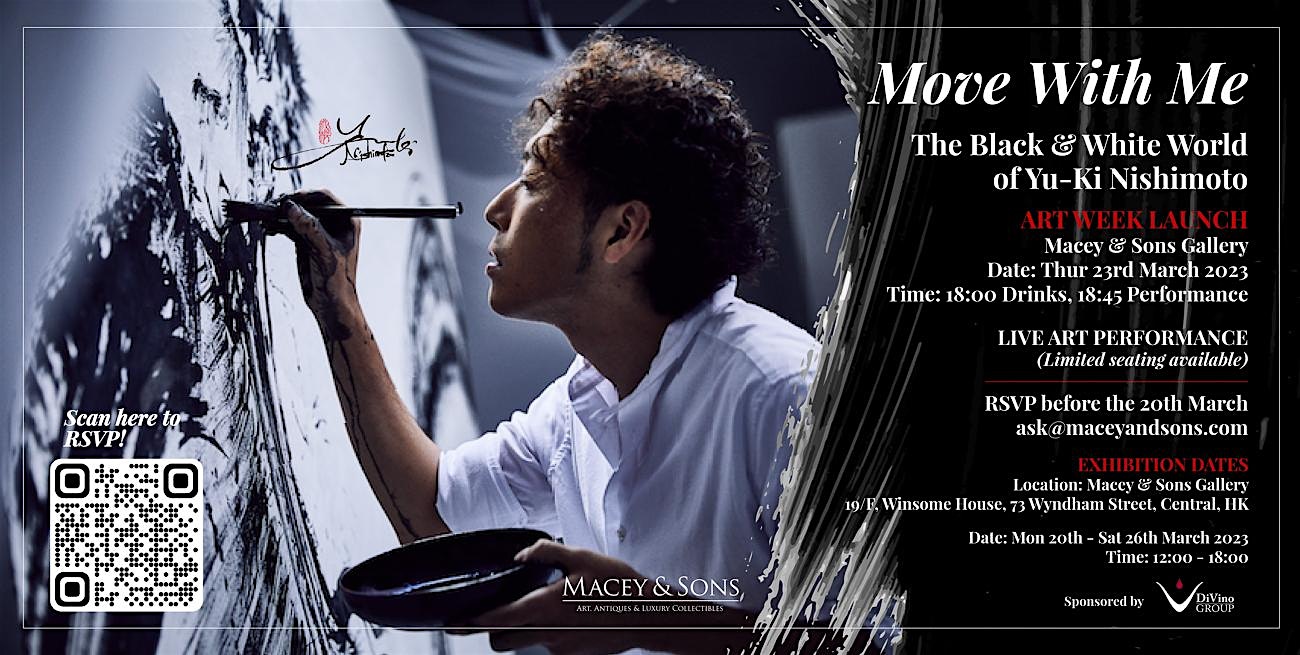 Thursday, 23 Mar 2023
18:00 — 20:00 HKT
Location
Macey and Sons - Auctioneers and Valuers
73 Wyndham Street
Central
HK
Sale ended
---
Join us for the Art Week launch of 'Move With Me – The Black & White World of Yuki Nishimoto'.
On the 23rd March 2023 Yu-Ku Nishimoto will perform live in Hong Kong at the Macey & Sons Gallery located on 19/F, Winsome House, 73 Wyndham Street, Central, Hong Kong.
Japanese ink artist Yuki Nishimoto has been internationally acclaimed for his bold yet sensitive style of brushwork and illustration. Best-known for ink paintings and live performances, he depicts dynamic subjects — from the historical and mythical, such as samurai and dragons, to contemporary musicians and athletes.
He has performed in front of Michael Schumacher, Ferrari, FIFA World Cup Japan 2016, Christie's Auctions Hong Kong, OMEGA and many more. His art has been part of the official communications of the Tokyo 2020 Paralympics, Rugby World Cup 2019, Pokémon GO and he has exhibited at Art Central and the famous Kyushu National Museum's 10th Anniversary Exhibition. Nishimoto also performs for TV shows, holds solo exhibitions and has collaborated with computer graphics and motion pictures outside of Japan including Europe, America, China – making him an unconventional artist active on the modern stage.