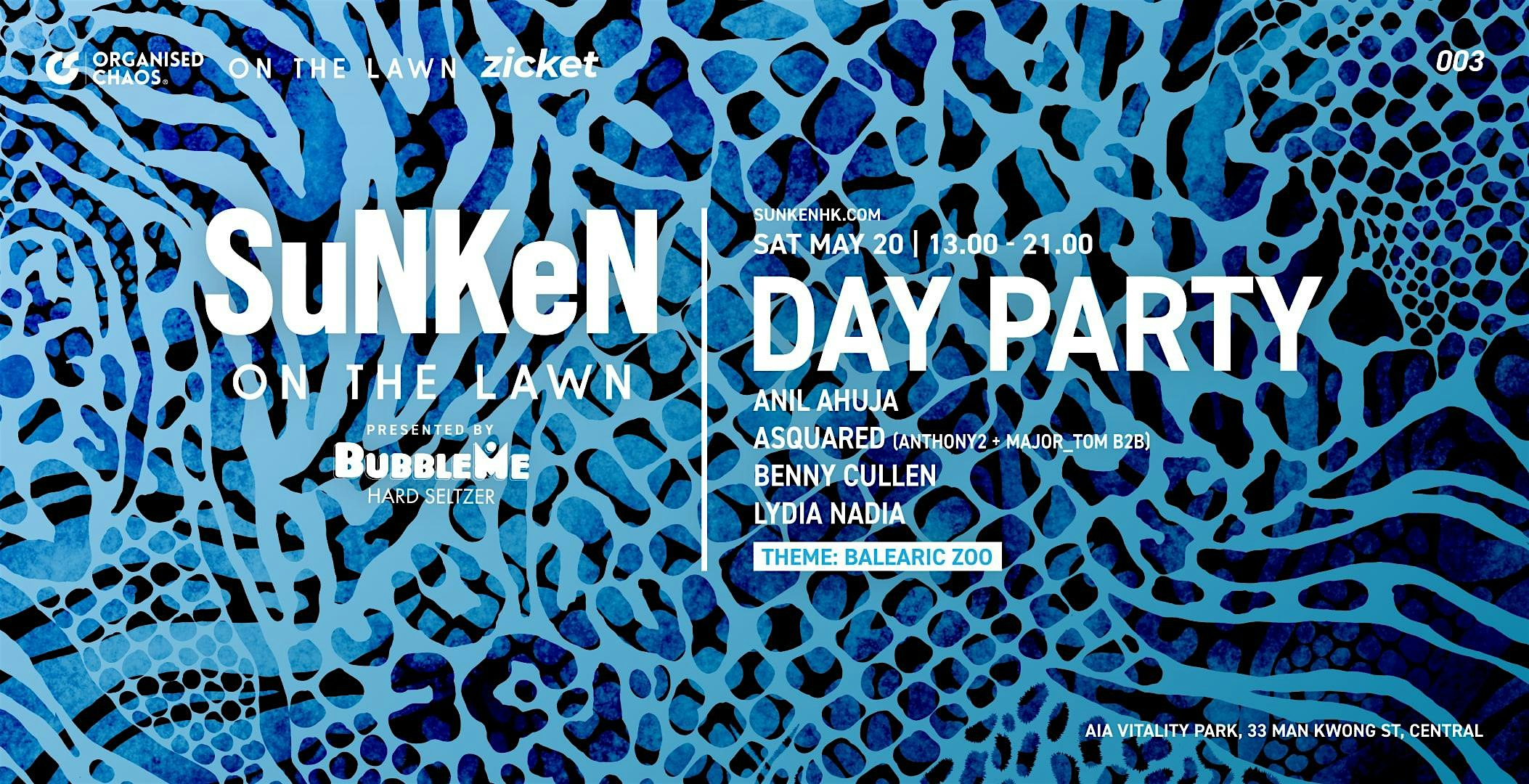 Saturday, 20 May 2023
13:00 — 21:00 HKT
Location
Hong Kong Observation Wheel & AIA Vitality Park
33 Man Kwong Street
Central
HK
Sale ended
---
Presented by BubbleMe Hard Seltzer
After the massive success of Sunken Vol. 1 and 2 in 2021, we're excited to announce that SuNKeN is back, bigger and wilder than ever! Get ready to embrace the exotic vibes on The Lawn on Saturday the 20th of May as we present the most exhilarating day party experience yet: Balearic Zoo.
Immerse yourself in our enchanting Ibiza Zoo Party theme, featuring captivating zoo decor, mesmerising body and face painting, and striking giant zoo animals. As our guests, you are encouraged to take outfit inspiration from the animal kingdom, and we'll have body painters and make-up artists on site to complete your animal-inspired outfits, ensuring a wild time for all.
Set at AIA Vitality Park on the picturesque Hong Kong harbour front at the foot of the iconic Hong Kong Observation Wheel, The Lawn is the perfect space for us to throw an unforgettable day party. From the moment you walk through the doors, expect an extravagant, immersive, and interactive event experience featuring beautiful decor, a stellar DJ lineup, unmissable photo opportunities, and so much more.
Sunken Hong Kong will make you want to capture every second, but you might just get lost in the moment as you enjoy carefree dancing and mingling with fellow partygoers. Expect a Balearic Zoo-themed day party experience, insane-production, sunset yoga, and a few surprises from our event partners & sponsors BubbleMe.
All this soundtracked by a mix of Chilled, Summery, and Balearic House sounds from some of Hong Kong's finest DJs.
DJ Lineup (A-Z)
__________
ANIL AHUJA
Renowned for his infectious energy, Anil Ahuja has captivated audiences around the world with his unique blend of Afrohouse, house, hip-hop, urban, and electronic beats. With over 20 years of experience and an impressive list of performances under his belt (including being the Official DJ for Lady Gaga's Pool Party in Macau), Anil is a master at creating unforgettable dance floor moments.
A SQUARED (MAJOR TOM B2B ANTHONY2)
Hong Kong's underground electronic music scene wouldn't be complete without the presence of Anthony2 and Major Tom, who have been electrifying dancefloors since 2012. Their undeniable chemistry behind the decks, coupled with their versatile grooves ranging from deep house to techno, make ASquared a must-see act at Sunken on The Lawn.
BENNY CULLEN
Benny knows how to get a day party crowd moving with his irresistible, summery sounds. His infectious energy and impeccable track selection are perfect for Sunken on The Lawn.
LYDIA NADIA
Get ready for a mesmerising musical journey with Lydia Nadia, a Hong Kong-based DJ with roots from Shanghai, Scotland, and Iran! Having started her DJ journey in 2020, Lydia Nadia has quickly gained a following for her unique blend of Afro House, Latin-infused House, Organic House, Downtempo, and House music.
Venue
__________
Located at the Hong Kong Observation Wheel and AIA Vitality Park, a stunning waterfront venue with breathtaking views of Victoria Harbour.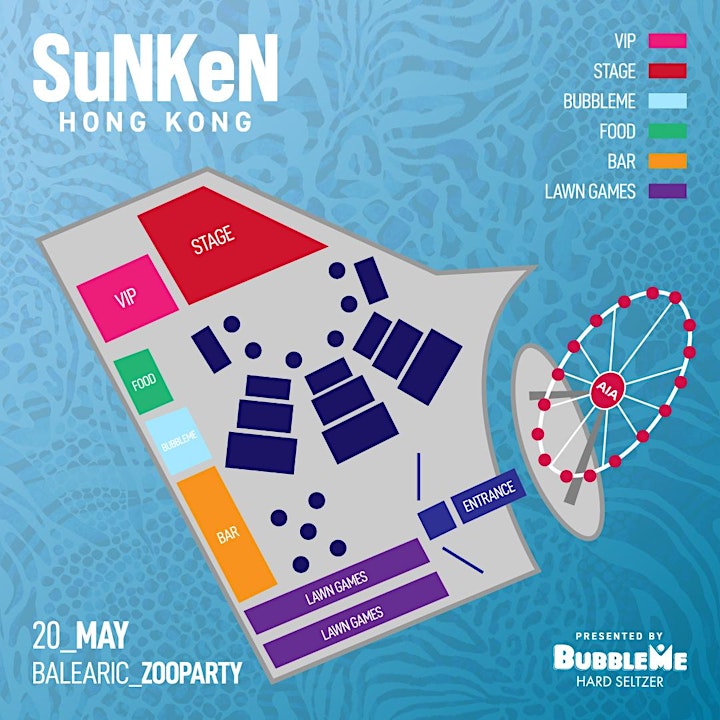 Event Partners
__________
BLING THING