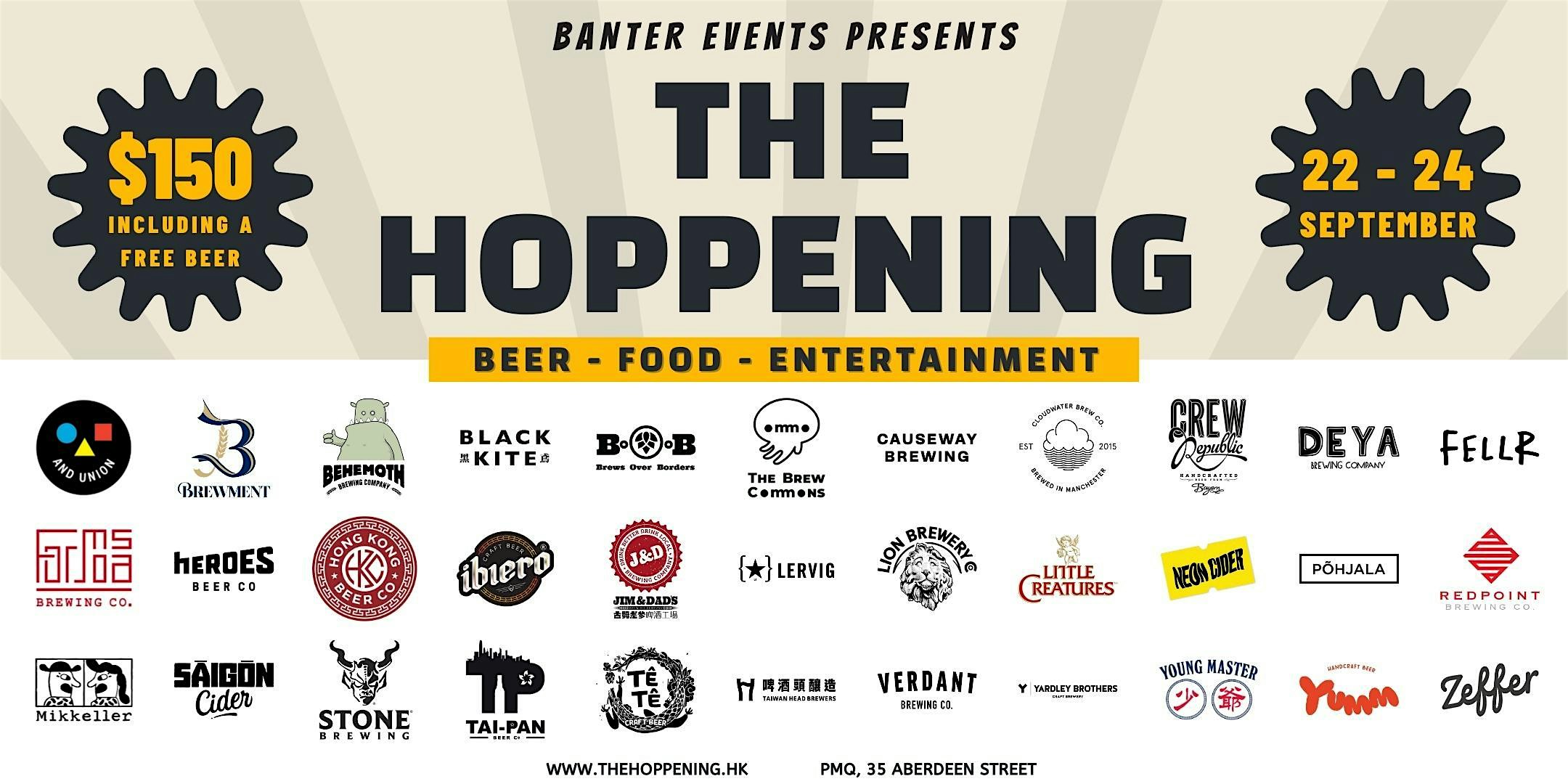 Friday, 22 Sep 2023
—
Sunday, 24 Sep 2023
16:00 — 20:00 HKT
Location
PMQ
35號 Aberdeen Street
Central
HK
Sale ended
---
Get ready to hop into the fun at The Hoppening, an exciting event filled with Beer, music, and delicious food, happening on Sep 22 - 24th
Get ready for the ultimate craft beer experience in downtown Hong Kong - The Hoppening! This epic event will showcase the best of local and international breweries, offering an unrivaled selection of craft beers for you to taste and explore. From hoppy IPAs to rich stouts, this is a must-attend event for all beer enthusiasts!
Every ticket comes with the following:
1 x Free Beer of your choice
1 x The Hoppening Cup (you'll need it to drink from)
1 x Coozie to keep your beers cool
Happy Hour! The first two hours of every session
Access to The Hoppening & our beer garden
Hong Kong breweries offer explosive flavors that will tantalize your taste buds, featuring award-winning IPAs, rich stouts, and refreshing lagers. These innovative brewers are elevating the city's beer scene to new heights.
准备好迎接香港市中心终极手工啤酒体验——The Hoppening吧!这个史诗级活动将展示本地和国际酿酒厂的精选之作,为您提供无与伦比的手工啤酒品尝和探索选择。从花香四溢的IPA到浓郁的黑啤,这对于所有啤酒爱好者来说是一个必参活动!
每张门票包含以下内容:
1 x 您选择的免费啤酒
1 x The Hoppening杯(您将需要它来喝酒)
1 x 保持啤酒凉爽的保温套
欢乐时光!每个场次的前两个小时
进入The Hoppening和我们的啤酒花园
香港的酿酒厂提供会令您的味蕾兴奋的爆炸性口味,包括屡获殊荣的IPA,浓郁的黑啤和爽口的拉格。这些创新的酿酒师正将这座城市的啤酒文化推向新的高度。