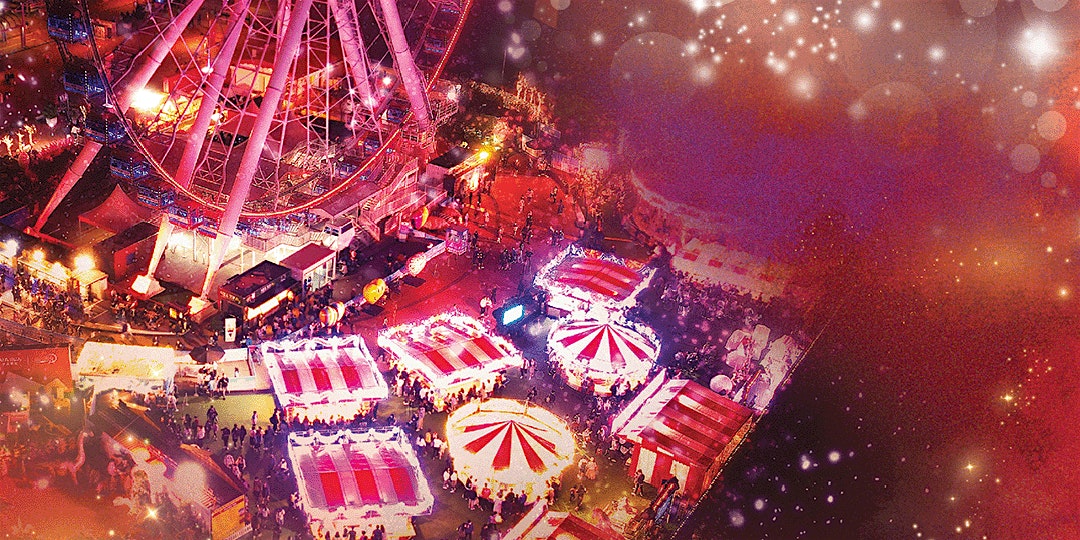 Thursday, 09 Feb 2023
11:00 — 23:00 HKT
Location
Hong Kong Observation Wheel & AIA Vitality Park
33 Man Kwong Street
Central
HK
Sale ended
---
OPEN ON 14 JANUARY 2023 – 19 FEBRUARY 2023 開放日期為2023年1月14日至2023年 2月19日
OPEN ON 14 JANUARY 2023 – 19 FEBRUARY 2023
開放日期為2023年1月14日至2023年 2月19日
Thank you for your support! The Wheel of Good Fortune will be extended and the event will now be open until Sunday, 19 February.
感謝你的支持!「新春幸運摩天輪」將會延長開放至2月19日(週日)。
A brand new Lunar New Year experience, the "Wheel of Good Fortune" promises to be a event suitable for the Hong Kong community to come together and start the Year of the Rabbit with a bang on the Central Harbourfront.
A festive outdoor event packed with a series of traditional Chinese festive elements, including family-friendly rides, ever popular skill games, Instagrammable lighting installations including beautiful aerial and Zodiac lantern displays . It is an ideal place for the whole family to welcome the Year of Rabbit with luck and good fortune!
位於中環海濱的全新活動《新春幸運摩天輪》以全新面貌亮相,以中國傳統十二生肖作為活動主題,在兔年為大家送上新年祝福!活動亦會提供一系列的精彩環節,包括新春夢幻花燈走廊、十二生肖造型擺設拍照打卡位、多款有趣好玩應節攤位遊戲,以及合家歡機動遊戲,為新春佳節增添活力氣氛,祈求平安幸福、好運滿載,陪伴大家歡度佳節!
Advance Online Ticket Pricing (Get the Best Price by booking online in advance!)
At Wheel of Good Fortune, due to limited capacity we strongly encourage our guests to book in advance. This will not only guarantee your spot, entry through the online priority queue AND we offer a discount for advance online tickets. We hope this will enhance your experience and allow you to have a worry-free visit.
網上預購門票價格 (網上預購至抵價)
為配合《新春幸運摩天輪》場地可容納人數所限,我們建議所有訪客預先購買門票,以確保到訪後有更美好的體驗。預購門票不但可以確保入場,亦可經已持有網購門票優先隊進場,而網上購票更可享優惠。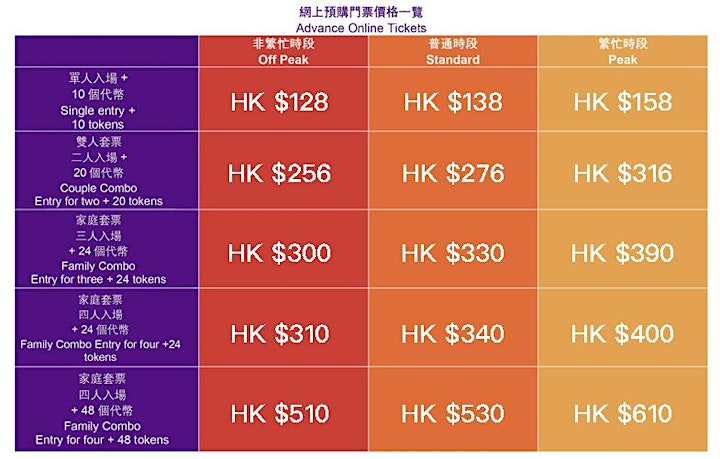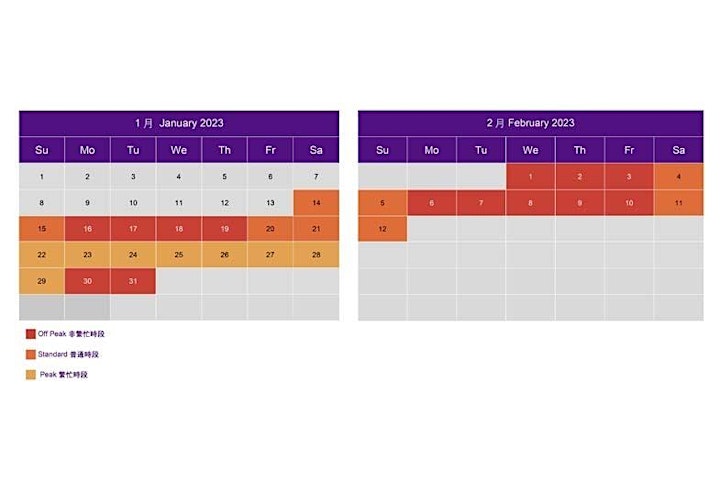 1. Select the type of ticket you would like to purchase, tokens can be used for skill games. The more friends and family you come with the greater the savings!
2. Complete the booking process and have your electronic ticket printed out or on your mobile device when you arrive at the event on the date you have chosen.
3. See you at the Wheel of Good Fortune!
1. 選擇您要購買的門票類型,代幣可用於攤位遊戲。 越多朋友和家人一起到訪,節省的門票價錢越多!
2. 完成購票流程並列印您的門票或在手機上儲存好電子票。請於已選擇日子到訪「夏日派對」並出示門票進場。
3. 《新春幸運摩天輪》見!
Terms and Conditions
Tickets is non-transferable, non-exchangeable, non-refundable and only valid on the printed date of the ticket.
We may, without prior notice and without refund or compensation, change the operating hours of the park or attractions, close the event or any part thereof temporarily, or suspend the operation of individual rides for weather, safety, maintenance, or any other reason.
Children aged 11 or below must be accompanied by a person aged 15 or above.
The following activities are strictly prohibited in the park: a. Consumption of food and drinks b. Sale of goods or services except with prior consent; c. Commercial photography or videography except with prior consent;
No pets or animals are permitted in the park.
You accept and agree that the organiser may take and use your photographs or images for commercial purposes.
You agree to comply with all notices and directions by any member of staff for the purpose of ensuring safety and order.
The organiser reserve the right to deny admission, or to require removal from the park, without refund or compensation, for illegal, unsafe or offensive behaviour, or if the organiser consider that the circumstances so require.
Except where required by law, under no circumstances is the organiser liable for any damage, loss or personal injury suffered by you, whether the same is caused by our negligence or otherwise.
In the event of disputes, the organiser reserves the right to make final judgement on the dispute and otherwise in respect of tickets.
Socially Distant Space: Attractions are spaced around the site to maximise playing and minimize queuing. All games and rides will be operated ensuring 1.5 meters separates each of the players.
Hand Sanitiser stations will be positioned at each entry and exit point, every game and every ride. All facilities will be thoroughly cleaned and sterilized regularly.
Please note, these terms and conditions can change at any time, please visit the Hong Kong Observaiton Wheel's website at www.hkow.hk for an up-to-date list.
條款及細則
1. 門票不可轉讓、退換,退款,並且只限定在指定日期使用。
2. 因安全,保養或其他原因,我們可能會在沒有預先通知及退款或賠償的情況下,更改《新春幸運摩天輪》開放及關閉時間,或者暫時關閉部分設施,或者停止個別遊樂設施。
3. 11歲或者以下小童必須由另一個年滿15歲或以上人士陪同。
4. 嚴禁在場內進行以下活動:
a) 食用非在場內購買的食品和飲料;
b) 未經許可售賣商品或提供服務;
c) 未經許可進行商業攝影或錄影;
5. 禁止攜帶寵物或動物入場,持有效證明文件的服務性動物除外。
6. 賓客接受並且同意《新春幸運摩天輪》在場內進行拍攝並使用你的肖像以作商業用途。
7. 賓客同意遵守場內任何工作人員的指示以維護場內秩序及安全。
8. 針對任何危險或非法行為,我們有權拒絕有關人士入場或要求該等人士離開,而有關人士將不會獲得退款或任何賠償。
9. 除法律條例說明外,我們毋須為賓客之財物損壞或損失負責,不論此等損壞或損失是因我們的疏忽或其他原因所致。
10. 如有任何爭議,《新春幸運摩天輪》保留對爭議及其他門票爭議的最終決定權。
11. 活動設施及遊戲分佈在場地四處,確保在足夠社交距離空間同時,並最大限度地減少排隊時間。所有遊樂設施都將確保每個玩家之間保持 1.5 米的距離。
12. 消毒液將放置在每個入口和出口點。場地亦將進行定期清潔,以確保嚴格遵守衛生規程。
13. 這些條款和細則可能隨時更改,請到訪我們的網站 www.hkow.hk 以獲取最新資訊。